Remote Monitoring Services 24/7/365 Nationwide
CSS Ltd have employed the monitoring service of Advanced Independent Monitoring since our company formation and offer the best monitoring solutions today and technology.
In today's demanding business environment, insurance companies and police forces are recommending that installed alarms should be monitored. CSS Ltd uses Aim's state of the art Alarm Receiving Centres provide a 24-hour alarm monitoring service, giving you total peace of mind.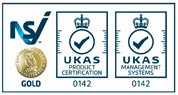 Remote CCTV Monitoring: 24/7/365 Nationwide
Aim's dedicated Remote Video Response Centre (RVRC) responds to detector activated CCTV system alerts when your premises are left unoccupied. Alarm-triggered images are relayed from the secure premises to our monitoring centre, where the data is analysed to determine the best course of action to be taken by our operators.
Fire VRT and Schedule Testing
Using this service your customers can place their fire alarm on test at their own convenience simply by calling our FREEPHONE number and following the easy prompts. Alternatively if your customer regularly tests their fire alarm at the same tile each week then Schedule testing is the best solution.